The colours of autumn
Autumn is a very beautiful season of the year, especially in Poland where everything turns red and orange. The colours of autumn in Poland are mostly associated with leaves turning red, orange and brown – therefore autumn's popular colours are various shades of red, orange, yellow or brown. They are all rather bright and vivid, reflecting the sun and its fading light. After all, there's a point in calling Polish autumn – gold or golden.
Autumn is best experienced while surrounded by nature, in the mountains, at the seaside, everywhere green and leafy. Still, autumn in the city can be also very beautiful, especially in the city like Warsaw. Autumn in the city, especially in  the Polish capital can be really magical. First of all, think of all the beautiful green areas that can be easily found in Warsaw. There are many parks and gardens filled with trees and bushes, juicy green in spring and summer and turning red in autumn. Autumn in the city in Royal Łazienki Park or Wilanów gardens can be really beautiful. Still, it's not the end of autumn's in the city joys.
Autumn in the city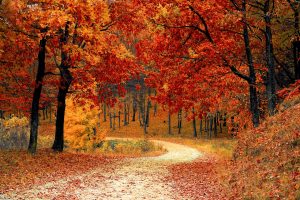 After all, Warsaw has many other beautiful places where you can enjoy autumn's charms. First of all, think of smaller parks with water areas that you can easily encounter spread throughout the city. Then, Warsaw's charming streets filled with cafes and bistros can be also nice places to enjoy autumn's riches. Autumn in the city is after all mostly spend on the city's streets and squares. In case of Warsaw, you can either walk its busy streets in the city centre and enjoy their hectic life or you can find some nooks and corners to enjoy beautiful autumn weather in peace.
No matter you choice autumn in the city like Warsaw isn't only filled with beautiful autumn's colours – it's also very much alive and energetic. City's vibe is easily experienced everywhere and best to simply enjoy it. Autumn in the city, if the weather is fine, it's warm and sunny is best spent outdoors – luckily although it's after high season Warsaw's many bars and restaurants still have summer garden where you can sip your coffee and enjoy the time.
All in all, autumn in the city doesn't have to be boring and it's best to remember it. Warsaw adapts to changing seasons and constantly changes its face. It's really nice to know it's autumn looks. You can be pretty surprised at what you can see. Don't wait for the summer, enjoy autumn in the city while it lasts.