Wedel might not be as recognizable as some Belgian brands of chocolate, but for Polish citizens life without Wedel is not worth living.
The company has remained strong through the ages, since the first chocolate factory and shop were opened by Karol Wedel in 1845 and the official brand was registered in 1851. Wedel manufactured chocolate caramels that were advertised as "a perfect remedy for all pains, including those hidden inside, for all enthusiasts of delicate taste".
Wedel products quickly became the favorite brand of sweets of every Pole – before World War II Wedel had countless chocolate shops, not only in Poland but also in Paris and Vilnius. What's more, Wedel's chocolates were a prime export product that found its fans even in Japan.
After the War, Wedel's factories were nationalized under the new communist regime but returned to private owners after the fall of the Iron Curtain in 1989. Despite all the historical changes and political perturbations, Wedel was always loved by Polish people.
The best Wedel products: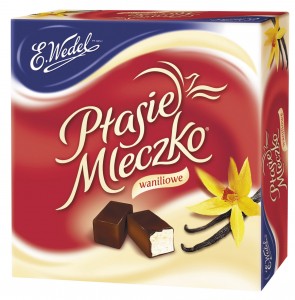 Ptasie Mleczko (literally translated as "Bird's milk") – chocolate covered mil soufflé, oftentimes considered an official Polish candy (it is a registered EU trademark!).
Wedel's Cake – one of the first and the most recognizable Wedel products – a nut mass on wafers, covered with sweet chocolate.
Delicje (Jaffa Cakes) – well-known dessert made of soft sponge cake, fruit jelly and chocolate mix perfectly together. Wedel is a true master of this sweet little things.
Chopin pralines – the most famous polish pralines, available in many variations (Cherry Liqueur, marzipan etc.) hidden in a stylish metal box with an engraved monument of the most famous Polish pianist and composer.
Chocolate bars – Pawelek, Pierrot, Bajeczny are known by every person in Poland and are available in the large chocolate bars as well as small candies. You have to try them while visiting Warsaw for a short term or for an extended stay.
Wedel chocolate shops can be found in almost all tourist spots in the city and you simply cannot pass by them.