Royal Baths is one of the most distinct and the most recognizable places in Warsaw. It is also a place where history meets relax and art meets nature.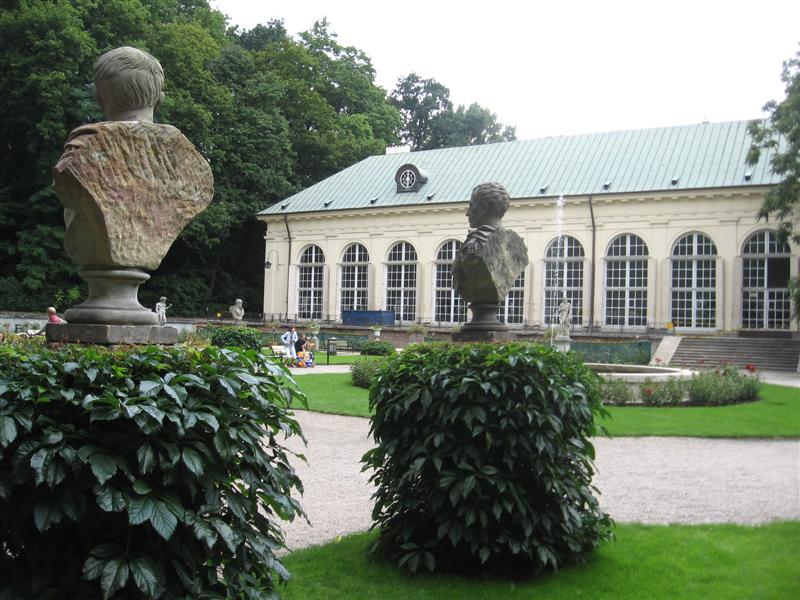 This huge (76 ha!) park complex located in the representative centre of Warsaw in its well know, current state, was createdin 17th century for one of the rich polish nobles – Stanislaw Lubomirski, but it gained its fame during the rule of king Stanislaw August Poniatowski, who was a proponent of cultural expansion and art patron. He expanded the area and built structures that stood the test of time and can be visited today. The most famous royal buildings in Baths include:
Palace on the Water – a tremendous architectural achievement and one of the most famous monuments in Warsaw. After the King Poniatowski refurbished the palace, it became a center of culture and art in the capital and it shows even today.
The Theater on the isle is located just by the Palace. Its looks were clearly inspired by Greek and Roman architecture and it is used as a spot for artists and musicians who showcase their skills.
Orangery is yet another location in Warsaw that is ingrained in the history of the city. This architectural marvel was constructed (as the name implies) as a botanic garden and today it is used as an art gallery. It is complemented by New Orangery which serves its original purpose – it is a tropical botanic garden.
White House – a little villa build for many women Stanislaw August Poniatowski had relationships with, which also served as a temporary home for Louis XVIII, king of France in exile in early 19th
Belweder (Belvedere) – situated on the edge of Royal Baths, this former residence of Polish presidents now serves as a ceremonial location for official meetings and as a temporary residence for foreign VIPs.
Astronomical Observatory of Warsaw's University – also located in a walking distance from Baths, it makes a great impression on everyone who strolls by it – it is a monumental structure that towers over the park and every tourist coming to Royal Baths should at least take a look at it.
Chopin Statue – a monument dedicated to the most renown Polish musician, Frederic Chopin. It stands in a quaint, lovely spot near one of the entrances to the Royal Baths, surrounded by fountains and trees. It is a very popular spot for couples who wish to spend some quality, romantic time.
Of course, Royal Baths have many other attractions to offer, but it's best to discover them yourself. You can easily get to Royal Baths from St. Andrews apartments – if you have time, you can simply walk there (you just need about half an hour). If you wish to get there quicker, public transport will help you.