Warsaw business visitors
Warsaw as the capital city needs to retain certain level of services and attractions, both for foreign and domestic visitors. What's interesting, Warsaw needs to provide appropriate forms of entertainment for both kinds of tourists, the ones travelling on business and the ones seeking fun. After all, Warsaw is a very important business centre in Poland – a lot of global corporations have their quarters in Warsaw.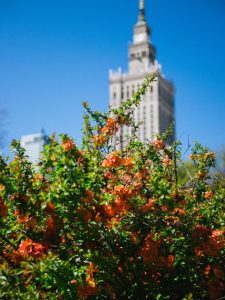 Warsaw tourism is therefore divided into these two kinds of travellers, who what's important look for different things. Visitors traveling on business expect basically two things – these are: high quality accommodation and fancy places to eat out and unwind after busy days spend at corporate meetings. Luckily, Warsaw has it all and it's plenty.  There's a huge base of restaurants, cafes and bistros that offer world class cuisine, not only from traditional Polish food but from cuisines all over the world. What's more, there's plenty of various kind of clubs  with excellent food and various additional forms of entertainment such as live music etc.
Yet, Warsaw tourism isn't after all limited to business travellers. There's plenty of people who travel for pleasure and fun. What's even more interesting, every year Poland has more and more foreign visitors travelling for entertainment. Warsaw as the capital city definitely draws a lot of such travellers. What are Warsaw best places to offer them? These are basically  similar places as dedicated to business visitors, top quality hotels, fancy restaurants and clubs but there's one more thing – it's Warsaw's history and its museums and galleries.
Warsaw tourism – best places
Warsaw is known for its troubled history. Therefore, it's no surprise that Warsaw tourism is also very often centred around the capital's troubled past. Of course, it's a good idea since a lot of travellers is looking for some historical knowledge related to the places they visit. In Warsaw there's plenty of historical sites that show Warsaw's rich past. What's interesting, such historical places aren't only limited to museums and exhibitions in art galleries, they can be encountered right on the capital's streets and in its corners. Such historical sites relate basically to events unfolding during World Wars, especially during the II World War and the Warsaw Rising.
The Warsaw Rising Museum, National Museum, street corners and streets commemorating the past are definitely places worth visiting. Yet, Warsaw tourism isn't limited just to places focused solely on history. There's plenty of other things to do like visiting Warsaw's Vodka Museum or Copernicus Science Centre. They also offer great kinds of entertainment.